COMPOSER LABORATORY & FESTIVAL (FALL) 2021
SEPTEMBER 10-NOVEMBER 20, 2021
3 Weekends of Group Sessions | 2 Read-Through Events |  Private & Group Composition Lessons | 
Conversation Series on the  Business of Music | World Premieres
LIVE EVENTS SCHEDULED IN LOS ANGELES, OMAHA, ST PAUL, AND PHOENIX!
WORLD PREMIERE CONCERTS THROUGHOUT IOWA SPRING 2022
WRITING FOR KEYBOARD PERCUSSION

CO-ARTISTIC DIRECTORS JENNI BRANDON & MATTHEW COLEY
WITH OTHER HEARTLAND MARIMBA ARTISTS AND GUESTS! 
www.heartlandmarimba.com/festivals
The Composer Laboratory and Festival brings together composers and percussionists from around the world in this unique setting to collaborate and connect in writing new works for keyboard percussion instruments including Marimba, Vibraphone, Xylophone, Metallophones (Glockenspiel, Chimes, Crotales).
All sessions are presented virtually with the option to attend in-person sessions on select dates. All sessions will be recorded and made available to accommodate schedule conflicts.
Interactive settings throughout Fall 2021 where composers will work closely with Co-Artistic Directors Matthew Coley, percussionist/composer and Jenni Brandon, composer, as well as members of Heartland Marimba and other guest percussionists.
Go in-depth into the nuts and bolts of writing for these instruments and get to write etudes and a new work to be premiered by these percussionists.
Weekend intensives, private composition lessons and read-throughs of new works will take place throughout Fall 2021.
Register by September 7 to reserve your spot!
For more information, visit www.heartlandmarimba.com/festivals
About the Festival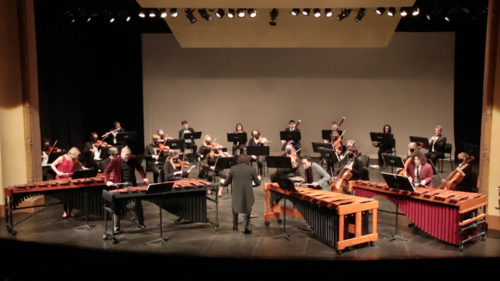 Award-winning composer Jenni Brandon and internationally acclaimed marimba soloist Matthew Coley serve as the Co-Artistic Directors. They are joined by Heartland Marimba Artists and other guests for this one-of-a-kind and immersive composition symposium. Through a comprehensive plan, and an approachable and collaborative setting with other composers, each participant will focus on writing a new work for keyboard percussion instruments including Marimba, Vibraphone, Xylophone, Metallophones (Glockenspiel, Chimes, Crotales). Participants will have their works performed and recorded by the members of Heartland Marimba and guest percussionists. Additionally, as a bonus portion of this workshop, the composers will have the opportunity to write two 30-second etudes in a style highlighting a technique unique to these keyboard percussion instruments. Heartland Marimba will potentially publish these examples through HMPublications in a brand new exercise book.
Solo and small ensemble repertoire is always in demand, and the changing climate of our performing world makes this a great time for composers to take a deep dive into learning about writing for an instrument. During these unique times, creating this type of repertoire becomes more important and needed, as so many of us are finding new ways to make music.
The sessions will include classes on fundamentals about the instrument, including the do's and don'ts of writing for keyboard percussion, to career topics and repertoire reviews. Along with these group sessions, there will be private composition lessons with Jenni and Matthew to help guide the composers in writing an engaging new work for these instruments. This workshop is the sixth in an online series of writing for a specific instruments offered by Jenni and the 2nd percussion workshop offered by Matthew and Jenni during the ever-changing COVID-19 crisis, and a deep component of each one is to foster an environment that allows for the composers to explore and to learn in a supportive and collaborative way. 
Each participant will receive a world premiere performance by Heartland Marimba Artists and guest artists, and a recording of the new work. All sessions will take place online through Zoom and Facebook Live with optional in-person participation for select weekends. Open to all composers and performers who have previous experience writing music and are interested in learning to write for keyboard percussion instruments.